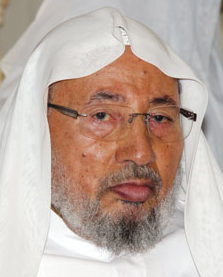 The international police agency INTERPOL has issued a "Red Notice" for Youssef Qaradawi which states that the Global Muslim Brotherhood leader is "wanted by the judicial authorities of Egypt for prosecution / to serve a sentence." According to the notice, the Egyptian charges against Qaradawi are as follows:
Agreement , incitement and assistance to commit intentional murder , helping the prisoners to escape , arson , vandalism and theft.
An INTERPOL Red Notice is the highest level of alert and is defined on the agency's website as follows:
Notices are international requests for cooperation or alerts allowing police in member countries to share critical crime-related information.Notices are published by INTERPOL's General Secretariat at the request of National Central Bureaus (NCBs) and authorized entities, and can be published in any of the Organization's official languages: Arabic, English, French and Spanish.In the case of Red Notices, the persons concerned are wanted by national jurisdictions for prosecution or to serve a sentence based on an arrest warrant or court decision. INTERPOL's role is to assist the national police forces in identifying and locating these persons with a view to their arrest and extradition or similar lawful action. In addition, Notices are used by the United Nations, International Criminal Tribunals and the International Criminal Court to seek persons wanted for committing crimes within their jurisdiction, notably genocide, war crimes, and crimes against humanity.
Many but not all countries, treat Red Notices as provisional arrest warrants with the UK being a notable example which does not treat them as such.
It is highly likely that the INTERPOL action was disseminated by Egypt by means of the agency's "I-Link" system, an instantaneous means for distributing alerts and described by INTERPOL as follows:
All international alerts for wanted persons – either in the form of an INTERPOL Red Notice or Diffusions – are now submitted through I-link. In a matter of seconds, member countries can draft and submit an alert seeking the arrest of a wanted criminal, with the information recorded instantly into the Organization's central database and immediately accessible to police around the world.
However, it should be noted that Red Notices issued in this manner are only temporary and are subject to review, part of which will undoubtably consist of a determination as to whether or not the charges against Qaradawi are politically based. Whether or not the notice is rescinded, it would appear to be somewhat of a headache for Qaradawi, restricting his ability to travel while the notice is in effect.
Originally from Egypt, Youssef Qaradawi is the most important leader of the Global Muslim Brotherhood and is the de facto spiritual leader of the movement. He is also considered to be the "spiritual guide" for Hamas and his fatwas in support of suicide bombings against Israeli citizens were utilized by Hamas to justify their operations. In 2004, Qaradawi turned down the offer to head he Egyptian Brotherhood after the death of the Supreme Guide now denies that he has any relationship with the Egyptian Brotherhood. He is based in Qatar and has said the Qatari Emir has protected from being designated as a terrorist by the U.S. He has also reportedly amassed substantial wealth by serving as the Shari'ah adviser to many important Islamic banks and funds. Qaradawi is the head of the Union of Good (UOG), a worldwide coalition of charities helping to raise funds for Hamas and is the leader of the European Council for Fatwa and Research (ECFR), the theological body of the European Muslim Brotherhood.
For a profile detailing Qaradawi's extremist statements, go here.