The website of Sheikh Abdallah Bin Bayyah, a Global Muslim Brotherhood figure who belongs to an organization that once called for attacks on US troops in Iraq, has announced that he recently visited the White House where he met with senior White House officials and representatives of other government agencies including an aide to President Obama and US OIC Envoy Rashad Hussain. According to the announcement:
White House Meeting

Shaykh Abdullah bin Bayyah visited the White House where he met with senior advisers and aides to President Obama and called for the protection of the Syrian people and the Muslim minority in Myanmar.

The distinguished scholar Professor Abdullah bin Bayyah, President of the Global Center for Renewal and Guidance and Vice President of the International Union of Muslim Scholars, visited the White House where he met with Ms. Gayle Smith, a senior aide to President Barack Obama, and Mr. Rashad Hussain, U.S. Ambassador to the Organization of the Islamic Conference. He also met with a number of experts including the director of public relations in the White House and representatives from seven government agencies.

Shaykh Abdullah bin Bayyah addressed the audience by speaking about humanity's need for two kinds of justice, namely: a) justice in which everyone is equal and one person does not oppress another, nor does one state oppress another state, and b) a justice specific to the powerful, which is to help lift the injustices from vulnerable peoples such as the Syrian people, the Palestinians, and the Muslims in Myanmar. In this context, Shaykh bin Bayyah thanked President Obama for demanding the rights of the Rohingya minority in Myanmar (formerly Burma) during his recent visit there. Likewise, the Shaykh called on the U.S. government for urgent action to help lift the injustice on the Syrians.

The meeting also touched on issues of development in the Islamic world whereupon Bin Bayyah pointed out the importance of adopting a 'grassroots' form of development which stems from the bottom of the community pyramid to the top rather than the other way around in terms of facing poverty seriously. For her part, Ms. Gayle Smith was pleased with this meeting, saying, 'We asked for this meeting to learn from you and we need to be looking for new mechanisms to communicate with you and the Association of Muslim Scholars.' She thanked the Shaykh for his efforts to bring more understanding amongst humanity."
The Bin Bayyah website also announced that Sheikh Bin Bayyah had been expected to visit the US from May 25 until June 10 for medical tests and was also scheduled to meet with unidentified "representatives of some Islamic bodies." The report also identifies other signers of the letter including Riad al-Shaqfa, a leader of the Syrian Muslim Brotherhood in exile, and Hammam Saeed, a leader in the Jordanian Muslim Brotherhood. The report also claims that former Obama National Security Advisor Tom Donilon was also present during the White House meeting.
Another Arabic language report of unknown reliability is reporting that Sheikh Bin Bayyah was carrying a personal letter from Global Muslim Brotherhood leader Youssef Qaradawi to President Obama which contained an urgent request to supply the Syrian "Mujahideen" with the necessary weapons to enable them to defeat the Syrian Army. The letter from Qaradawi also was said to thank the US for its support of the Libyan rebels and the Tunisian Revolution as well as denying that Muslims are either anti-Semitic or wish to destroy the State of Israel (it should be noted that Qaradawi himself is a virulent anti-Semite who has called for the death of all Jews).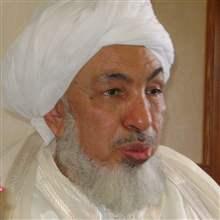 Abdallah Bin Bayyah, last known to be living in Saudi Arabia, is a well known global Muslim Brotherhood figure originally from Mauritania. According to an on-line biography, he was born in Eastern Mauritania and was the son of "one of the greatest scholars of his time." According to this source, Sheikh Bin Bayyah was taught Islamic subjects by his father and in his early 20's, was sent by the Mauritanian government to Tunis to study Islamic jurisprudence. Upon his return to Mauritania, he became a judge in the Ministry of Justice. He was also chosen to be the head of the Shariah section of the court of appeals and later to "High Authority for Religious Affairs." Sheikh Bin Bayyah held numerous government posts including Vice-President, Prime Minister, and Permanent Secretary of the People's Party of Mauritania.
Sheikh Bin Bayyah also holds leadership positions in several organizations associated with support for terrorism and anti-Semitism. As noted above, he is President of the Global Center for Renewal and Guidance (GCRG) a a UK-based organization created to "improve" the Islamic education curriculum and headed by Abdullah Omar Naseef who has held many important positions in Saudi Arabia including serving as Vice-President of the Kingdom's Shura Council, President of King Abdul Aziz University, and most importantly as Secretary-General of the Muslim World League (MWL) from 1983-1993. Dr. Naseef also heads the Cairo-based International Islamic Council for Dawa and Relief, (IICDR), an umbrella group for 86 Islamic organizations, many of which are associated with the Global Muslim Brotherhood, Hamas fundraising, or support for Al Qaeda.
Both the Saudi Muslim World League (MWL) and the World Assembly of Muslim Youth (WAMY) are also listed as IICDR affiliates. According to the GCRG Facebook page, the organization's current Trustees are Sheikh Bin Bayyah, Abdullah Nasseef, and Hamza Yusuf, a co-founder of Zaytuna College in Berkeley, California and who, together with the College's co-founder, has a history of extremist statements.
Sheikh Bin Bayyah is also a Vice-President of the International Union of Muslim Scholars (IUMS) which was launched on July 11, 2004 in conjunction with a visit by Youssef Qaradawi to London for a meeting of the European Council for Fatwa and Research. Many prominent individuals tied to the Global Muslim Brotherhood and/or Hamas have served as IUMS Trustees including US Muslim Brotherhood leader Jamal Badawi, Hamas Prime Minister Ismail Haniyeh, and Tunisian Muslim Brotherhood leader Rachid Ghannouchi. In 2004, the IUMS ruled that "resisting occupation troops in Iraq is a 'duty' on every able Muslim in and outside the war-torn country." The IUMS also said "it is not permissible for any Muslim to support the occupiers at the expense of the Iraqi people and their praiseworthy resistance" and urged "Iraqis forced, by necessity, to join the ranks of US-trained Iraqi and police forces, to be careful in dealing with their fellow citizens and not to harm them in any way." The IUMS has recently:
Finally, Sheikh Bin Bayyah is a member of the European Council for Fatwa and Research (ECFR), the theological arm of the Federation of Islamic Organizations in Europe (FIOE) essentially comprising the European Muslim Brotherhood and headed by Youssef Qaradawi. The ECFR meets annually and a Wall Street Journal reporter who attended a 2004 ECFR meeting described the proceedings:
"…members, speaking in Arabic, explained how European Muslim family life was under attack. 'Extremist fundamentalist powers based on aggression on the part of the Crusader and Zionist alliance in the West are now preparing their cultural strategy according to a new wave of secular tendencies,' said Ahmed Ali Al- Imam, a Sudanese religious figure who advocates the implementation of sharia in his religiously divided country. Other papers accepted traditional norms that directly contradict Western law and society, especially regarding women and marriage. Women should only cut their hair with their husbands' permission, and "any woman who would marry without a male guardian's consent, her wedding is invalid," declared Muhammad Hawari, a Germany-based member of the group. Sometimes the group's advice seems aimed at Muslims from another era. 'Children should eat clean food and use clean water. They should not urinate in water wells,' Mr. Hawari wrote in a paper. Adoption, he added, was forbidden, because a woman might be seen in a state of undress by a child other than her biological offspring. And if a child is adopted, Mr. Hawari said they should not be given equal rights to biological children."
The same reporter also wrote that a Council member cited "The Protocols of the Elders of Zion," a notorious anti-Semitic forgery written in czarist Russia, in a position paper on how Muslim families are under threat in Europe. "The Protocols, the speaker said, was evidence of a Jewish plot to undermine Muslim moral values through sexual permissiveness."
The visit by Sheikh Abdallah Bin Bayyah to the White House appears to have been facilitated by US OIC Envoy Rashad Hussain who has been attending meetings with Bin Bayyah since 2012. In July 2012, Mr. Hussain attended a meeting in Mauritania that was hosted by bin Bayyah. The subject of the meeting, ironically given the ECFR meeting described above, was "challenges faced by religious minorities in Muslim-majority communities." In November 2012, Islamic Society of North America (ISNA) co-sponsored the 'Inaugural International Conference on Citizenship and Minorities in the Muslim World' in Tunis, Tunisia. This meeting was also attended by Mr. Hussain and the report on the meeting indicated that ISNA had been working closely with Sheikh Bin Bayyah was well as Rachid Ghannouchi, Tunisian Muslim Brotherhood leader and another IUMS official, on citizenship and the rights of religious minorities.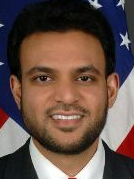 The White House meeting with Sheikh Bin Bayyah is likely as close as the US government will ever get to meeting with Youssef Qaradawi himself and would appear to be the culmination of the work of Rashad Hussain. For a short time, Mr. Hussain was embroiled in controversy after we had reported both his associations with the US Muslim Brotherhood and remarks that he had made in 2004 about the prosecution of convicted terrorist Sami Al-Arian that were later deleted from the publication that reported them. Mr. Hussain at first denied remembering that he had made the remarks calling the prosecution "politically motivated persecution" but later, after an audio tape surfaced documenting the remarks, he acknowledged the comments but said that they had been "ill advised." Mr. Hussain also admitted that he had complained to the publication about being misrepresented after the remarks were first reported but that the publication had deleted them on their own volition. The remarks did not appear to have been deleted until after Mr. Hussain had been appointed White House Counsel. (for an analysis of these events, go here). Since that time, Mr. Hussain has appeared at numerous events sponsored by the US Muslim Brotherhood including those held by the Center for the Study of Islamic and Democracy (CSID), the Council of Islamic Organizations of Greater Chicago, the Council for the Advancement of Muslim Professionals (CAMP), and the Islamic Society of North America (ISNA).