These pictures suggest that either the notorious anti-Semite Dr. Salah Sultan is either pushing his way towards Global Muslim Brotherhood leader Youssef Qaradawi or, more likely, is actually one of the most important figures in Qaradawi's entourage. Qaradawi's International Union of Muslim Scholars (IUMS) tweeted this morning that he would again be accompanying Qaradawi in Gaza: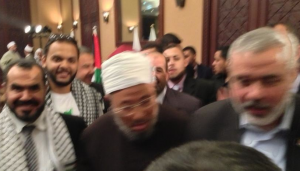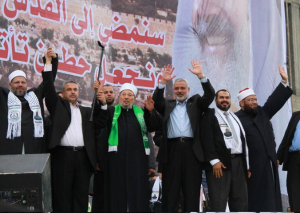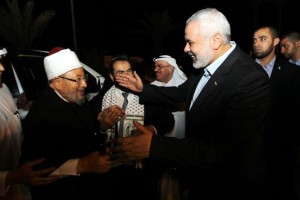 A post from yesterday reported that that Qaradawi had arrived in Gaza today where he was greeted by the Hamas Prime Minister and called immediately for "Jihad to death" against Israel.
Salah Sultan is a prominent member of the IUMS who once accused Jews of using Christian blood for Matzoh (substitute for bread used during the Jewish holiday of Passover).