Ahram Online has published an article titled ""In His Own Words: President Morsi's First Year Of Key, Bizarre Quotes" that looks at some of the Egyptian Presidents more peculiar utterances. The report begins: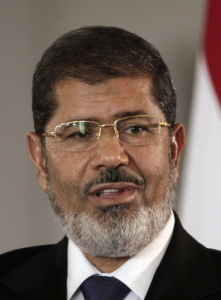 29 Jun 2013 Mohamed Morsi's inaugural year as Egypt's first post-revolution president featured some key and controversial speeches that went viral on social networking websites, further dividing the country. Some commentators mocked his statements and others staunchly supported them, lauding his decisions. Ahram Online has compiled a list of Morsi's most prominent quotes from his first year in office:
'I've been given authority, but I'm not the best of you. I will do my best to fulfil the pledges I made. Help me as long as I'm achieving justice, as long as I'm obeying God. Never obey me if I disobey God.'
Quoting parts of a famous speech delivered by Islamic caliph Abu Bakr Al-Siddiq following the Prophet Mohammad's death, Morsi attempted to woo admirers and win over sceptics after fending off competition from a Mubarak-era prime minister Ahmed Shafiq to become Egypt's first freely-elected president in June 2012.
'To all the Egyptian people: I'm not wearing a bulletproof vest. I'm safe with you, I fear no one but Allah.'
On his first visit to the iconic Tahrir Square after being elected as president, Morsi took off his jacket – a move described by his supporters as 'courageous' and dismissed by his critics as 'theatrical.' It marked his only visit to-date to the cradle of Egypt's revolution.
'The blood of those martyrs will never be shed in vain. I've given clear instructions to the army and police to hunt down the criminals and bring them to justice.'
Facing his first serious test as president, Morsi vowed to capture the militants who killed 16 army soldiers in Rafah last Ramadan, an incident that sent shockwaves across Egypt. The authorities have so far failed to arrest or even identify the perpetrators.
'The decisions I took today are not targeting any specific persons. I don't mean to embarrass any establishment; I'm just looking for the interests of the Egyptian people.'
Morsi justified his bold move to dismiss defence minister Mohamed Hussein Tantawi, who was Egypt's de facto ruler during the tumultuous transitional period, just days after the Rafah attack. Analysts said the decision paved the way for Morsi to assume full control of the country.
'The constitutional declaration is necessary for this exceptional period. It's only a temporary measure.
Read the rest here.
In September, Secure America Now (SAN) released a report called "The Truth about Mohammed Morsi" which detailed extremist statements as well as other information about Egyptian president Morsi. The report begins with an introduction summarizing Dr. Morsi's statements statements and views:
"Resistance is the correct and only way to free the land from the filth of the Jews"
His words are reflective of his contempt for Jews, The United States, and the State of Israel.
Dr. Morsi joined the Muslim Brotherhood while living in the United States
Two of his sons were arrested at anti-Israel, anti-United States demonstrations in Egypt
Dr. Morsi has repeatedly denounced Egypt's treaty with Israel.
Dr. Morsi is an unabashed supporter of Hamas
Dr. Morsi believes the 9/11 terrorists have not been identified.
Dr. Morsi has repeatedly defended the Sudanese President al-Bashir who has committed genocide against the people in Darfur.
Dr. Morsi has pledged to work for the release of Sheikh Omar Abdel-Rahman, a militant Islamist preacher imprisoned in the United States for planning the 1993 World Trade Center bombing
The SAN report says that in 2004, Dr. Morsi said that the "Quran has established that the Jews are the ones in the highest degree of enmity towards Muslims" and that "there is no peace with the descendants of the apes and pigs".
Read the rest here.