Mohamed Elibiary, best known for his role as a member of the US Department of Homeland Security Advisory Council, has announced that he will no longer be serving in that position. According to his Twitter feed:
"Though today's my last day as Senior Fellow member of the HSAC, I plan to remain supportive across the #HmldSec Enterprise via other roles."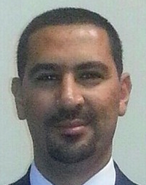 On October 30 2010, the GMBDW reported that the Department of Homeland Security had sworn in three new members of the Homeland Security Council one of whom was Mohamed Elibiary, who we exclusively identified as the President and CEO of the Freedom and Justice Foundation, an organization with ties to the US Muslim Brotherhood and the US Hamas infrastructure. Since that time, Mr. Elibiary has been widely discussed in a variety of venues and described as a "noted Islamist" though he was virtually unknown until the GMBDW highlighted his background. Mr. Elibiary has since become a lightning rod for the "infiltration hypothesis" which suggests that the United States government has extensively and unwittingly been infiltrated by Muslim Brotherhood "operatives."
For the GMBDW rebuttal of the infiltration hypothesis, go here.
For our profile of Mr. Elibiary, go here.
For our collection of posts, on Mr. Elibiary go here.