A UK music media publication is reporting that the singer formerly known as Cat Stevens, then Yusuf Islam, and now apparently Yusuf/Cat Stevens will be performing in the UK in November as part of his recent tour. According to the report:
Yusuf Islam – who now seems to have conceded that his (not especially) new name has never caught on and is instead billing himself (or at least is being billed) as Yusuf/Cat Stevens – has announced a pair of London shows for November. His first UK concerts for five years, they will follow the release of his new album, 'Tell Em I Gone', though Legacy recordings on 27 Oct."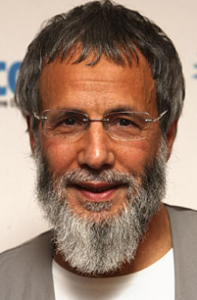 Yusuf Islam, who changed his name and converted to Islam in 1978, last attracted substantial attention when he was was denied entry to the United States on national security grounds in September 2004. After protests from the foreign office of Great Britain where Mr. Islam is a citizen, he later returned to the United States to promote his first mainstream pop album in 28 years. Although Islam is said to have spoken frequently against terrorism and the accusations against him frequently ridiculed, he is closely associated with a number of organizations tied to the Global Muslim Brotherhood and/or support for Hamas:
Ibrahim Brian Hewitt, a former secretary to Mr. Islam, has been associated with both

IBERR

and Interpal, a British charity that is one of the most important organizations in the Union of Good.
Other relevant news about Yusuf Islam has included:
In January 2009, Mr. Islam released a charity song from which all proceeds were to be donated to the United Nations Relief and Works Agency (UNRWA) and Save the Children in order to aid children and families in the Gaza Strip.
In August 2013, the GMBDW reported that Mr. Islam was hosted by the Turkish Prime Minister Recep Tayyip Erdogan.